ECC200_A10 series: 10-inch indoor walkie-talkie Android building intercom system | Smart building label | Weak current project
ECC200_A10 series|10 inchcolorThe walkie-talkie is a 10-inch Android indoor walkie-talkie with a smart intercom function suitable for all ages. The simple and intuitive user interface can be quickly mastered even by children, the remote emergency rescue function is integrated for the safety of the elderly, and the intelligent voice assistant that is favored by young people is included.
Description
ECC200_A10 series: 10-inch indoor walkie-talkie Android building intercom system | Smart building label | Weak current project
Product Specifications
Product Features
Android 9 operating system
minimalist industrial design
Thin and light profile, saving space
10-inch capacitive touch screen with power saving mode
1280 x 800 high-resolution support, can receive high-definition pictures from the door station
Two-way HD audio and video intercom
SIP compliant for easy integration into every SIP-enabled PBX
Support external power supply or PoE power supply
Support cassette installation, easy installation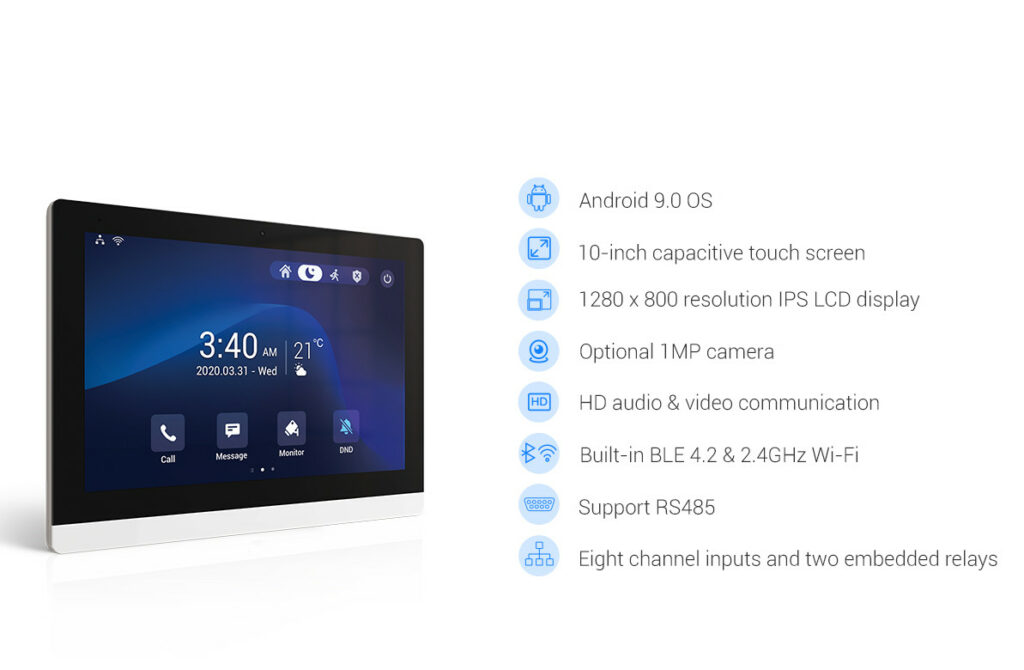 Hardware Specifications
Appearance material: plastic
RAM / ROM: 2GB / 8GB
Display: 10 inch IPS LCD
Screen: 10-inch capacitive touch screen
Storage Expansion: 1 Micro SD Card Slot
RS485 port: 1
Relay output port: 2
Doorbell input port: 1
Zone input ports: 8
Microphone: -26dB
Speaker: Dual speakers, 4Ω / 3W
Ethernet interface: 1xRJ45, 10/100Mbps adaptive
Support 802.3af standard Power over Ethernet
Support 12V DC power adapter (not using PoE state)
Tamper Resistant: Supported
Installation method: wall installation or desktop installation
Mechanical size: 200.2×132.2×27.2mm
Working humidity: 10~90%
Operating temperature: -10°C ~ +45°C
Storage temperature: -20°C ~ +70°C
touch screen
Display Mode: Projection Type
LCD Size: 10 inches (diagonal)
Aspect Ratio: 16:10
Resolution: 1280×800
Contrast: 900:1
Brightness: 350 cd/m²
Angle of View: 80° Left, 80° Right, 80° Upper, 80° Lower
Touch screen: Projected capacitive touch screen
Audio
Support SIP v1 (RFC2543), SIP v2 (RFC3261)
Narrowband Audio Transcoder: G.711a, G.711μ, G.729
Broadband Audio Transcoder: G.722
DTMF: In-band, out-of-band DTMF (RFC2833), SIP Info
Echo Cancellation
Voice activation detection
Comfort noise function
automatic gain control
video
Video Streaming Format: H.263&H.264
network
Protocols supported: IPv4, HTTP, HTTPS, FTP, SNMP, DNS, NTP, RTSP, RTP, TCP, UDP, ICMP, DHCP, ARP
Deployment and Maintenance
Automatic configuration
Interface: Web Management Portal
Web-based package dump
Configuration backup/restore
Firmware upgrade
System log (including door opening record)
Application scenarios
Detached villa
through the sky
Apartment building
collective housing complex
Smart Home System
Smart interior decoration
What is building intercom
building intercom, an internal communication system used in residential buildings. Its main purpose is to control the electric lock on the door outside the building. After confirming the identity of the visitor through the remote intercom, the electric lock can be opened remotely to allow the visitor to enter the residential building. So, from a home security perspective, it's a "guest admission system" implemented using technology similar to a phone system. Its basic composition is an indoor extension and a door host.
The door host is provided for the use of external visitors. The visitor dials the indoor unit by pressing the keyboard of the host, and the indoor unit rings to remind the owner that there is a visitor. The indoor user is like using a telephone, and he/she lifts the phone to talk. During the call, press the indoor unit. The unlock button on the remote control opens the door electric lock. And now the building intercom has developed to a higher level of application, such as calling other hosts, calling security has played a role in joint defense. Moreover, the indoor unit function is extended to small conferences and the function of communicating with households (that is, neighbors can talk to each other in the networked community). That is to say, the current building intercom has combined the application of residential security and life intelligence. For more functions, please refer to some building intercom manufacturers. Such as China Wenzhou Weishilong, Fujian Guanlin, some companies in Guangzhou. They all have their different characteristics, so building intercom is not a simple application of VTO calling the indoor unit and the indoor unit making a response.
Weak current engineering related technologies for smart buildings
Additional information
| | |
| --- | --- |
| Application | Building |
| Types of | central monitoring, control panel, cloud |
| Platform | APP, PC, PC+APP |