🔍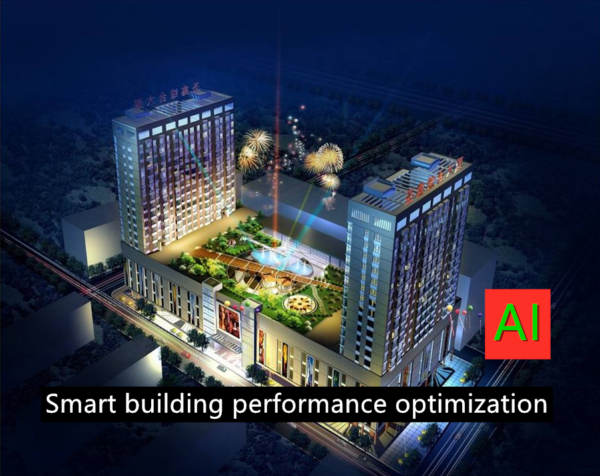 ECC200 Artificial Intelligence Building System|Smart Building Label|Weak Current Engineering
Real cloud-local dual system|Smart building label central monitoring system [conforms to NCC submission standards\smart building materials]|Functions include: energy management monitoring|weak current equipment monitoring|automation of management committee|automation of property management|automation of community announcement|community collection Online shopping automation | Community shopping automation | Multilingual support: Chinese/English/Japanese/Vietnamese/Thai | Compatible with multi-national environments | Multiple people use APP
Description
ECC200 AI today is all about building a technology that captures what we do as humans and tries to automate it using machine learning to build models based on training data on past behavior. Another industry term I see is "augmented intelligence". It's about using AI to help us do our jobs better rather than replace us, such as making decisions faster using large amounts of data.
How artificial intelligence can make buildings smart to smart homes
Smart Buildings: Buildings of Hope for the Future
Smart buildings are a buzzword these days. But what's going on here? Well, we don't have a generally accepted definition to cite. In short, a smart building can be called an automated structural model capable of responding to real-time events. The idea behind the concept is to provide users with a hassle-free experience while using energy efficiently. Earlier, buildings were deployed with CCTV surveillance cameras, smoke detection sensors and other light sensors to improve safety and efficiency. There are several other smart sensors embedded in buildings today, such as temperature, humidity, CO2, etc. Cameras and actuators are installed throughout the building. The data generated by these sources connects different building components and allows them to interact with each other. With such comprehensive data and intelligence, building managers have full transparency and control over the different systems of the building. With occupant comfort, safety and security in mind, managers can fine-tune operations to enhance tenants' living experience.
Smart buildings can not only fully take care of the comfort and safety of occupants, but also save energy and finances. Now, combined with the Internet of Things, AI is also helping to make smart buildings smarter than ever.
Building developer smart house
Actively optimize energy consumption smart house decoration
Based on these factors, an AI-based energy management platform can determine when there is less sunlight or larger users to blow the right amount of air into the room. It can even determine, based on usage patterns, a reasonable time to pre-cool buildings when energy prices are at their highest or reduce cooling when activity is low.
Real estate appreciation | smart home mark
Add functional selling points and increase real estate selling points
Preventive Maintenance Smart Home Price
By identifying anomalies and inconsistencies in data collected by IoT devices and sensors, AI and deep learning are ideal for detecting faults and failures in office building systems. Once these symptoms are identified, AI can be used to determine the cause and provide a diagnosis.
Improve user comfort and smart home design
Mobile apps and wearables solve this problem by enabling occupants to connect directly with building operators. Building owners can now directly understand how occupants use the building and assess their comfort level through direct tenant feedback.
The data collected from these devices can be added to AI as variables to build advanced models of how buildings achieve their higher worker productivity, which in the long run will lead to tenant retention and other benefits for building owners. benefit.
Head of Household | Smart Home
User-friendly operation | Smart home cost
AI voice chat instead of typing
Enhanced Interactivity | Smart Home Ptt
Voice calls can turn on TV lights and control smart home hardware
Optimizing Operational Behavior Automation | Trends in Smart Homes
User history traces active call history operating mode records
More accurate data | smart home mobile01
Eliminate manual setup uncertainty and create more accurate operating patterns for users
Frequently Asked Questions about Smart Buildings and Central Monitoring
1. What is a smart building central monitoring system?
Answer: The intelligent building central monitoring system is an integrated management system that implements telemetry, remote control, remote signaling, information processing, and computer control for various equipment, machines, and systems inside the building through information technology.
2. What are the advantages of the smart building central monitoring system?
Answer: The smart building central monitoring system can improve the automation and intelligence level of the building, promote the management of building energy consumption, improve the safety and comfort of the building, and reduce the cost of manpower management.
3. What is the working principle of the smart building central monitoring system?
Answer: The smart building central monitoring system realizes more accurate data collection through a transmission system composed of sensors, controllers, and communication networks. The collected information will be displayed on display screens, alarms and other output devices and processed by sound alarms.
4. What key equipment is needed for the smart building central monitoring system?
Answer: The central monitoring system of smart buildings needs the support of sensors, controllers, network communication equipment, display screens, power supplies and other equipment.
5. What is the scope of application of the smart building central monitoring system?
Answer: The smart building central monitoring system can be applied to various buildings such as large-scale commercial, medical, office, entertainment, and storage.
6. Which devices can be monitored by the smart building central monitoring system?
Answer: The smart building central monitoring system can monitor various equipment such as air conditioning, lighting, security, fire protection, elevators, curtains, and access control.
7. Can the smart building central monitoring system reduce the energy consumption of the building?
Answer: Yes, the smart building central monitoring system can realize reasonable energy management of various equipment in the building and reduce the energy consumption of the building.
8. How to deal with the failure of the intelligent building central monitoring system?
Answer: The failure of the central monitoring system of the smart building can be handled by system diagnosis, analysis and troubleshooting, and repairing the failure.
9. What are the possible risks of the smart building central monitoring system?
A: Possible risks include data leakage, equipment theft, system interruption, etc.
10. If you want to install a smart building central monitoring system, what should you pay attention to?
Answer: If you want to install a smart building central monitoring system, you need to consider the applicability, sensitivity, stability, reliability and other issues of the system, and you need to communicate with the manufacturer and installer.
Smart home automation
home automation(Home automation), refers to thebuilding automation, also known assmart home(smart home). There is also the name of Domotics in English. A home automation system can control lights, windows, temperature and humidity, etc. It may also include home security, such as access control or alarms.[1]Home automation has three main advantages: 1) Reduced environmental impact: Reduce energy and water usage by controlling window placement, utilizing natural light, ventilation or shading, ensuring that power and light are only activated when power and light are needed. 2) Improve the quality of life: Smart home provides proper heating, cooling, lighting and watering (3) Use automation system in smart home, save electricity and water bills, provide a sustainable indoor environment[2].
when connectedInternetAfter that, home devices become smartnetworkimportant ingredients. A typical home automation system uses a centralized hub or aboxer(Gateway) to connect. Use the terminal on the wall,smartphone,personal computerorWeb pageinterface as a control systemuser interface, they may also reachremote(Off-site) operation.
Although there are many competing manufacturers, there are not many common industrial standards in the world, and the smart home space is seriously fragmented.[3] Manufacturers sometimes prevent independent implementations through withholding documents and lawsuits.[4]
The market value of home automation in 2013 was about $5.77 billion, and it is predicted to reach $12.81 billion in 2020.[5]
At present, the platforms with the most users in the world are Amazon's Alexa, Google's Google Home and Apple's Homekit. In order to solve the problem of smart home fragmentation, Google and Amazon, Apple and Zigbee Alliance jointly launched the "Project Connected Home over IP" program.
Application and technology
According to Li[8]The statement of et al. There are three generations of smart homes:
1st generation: hasproxy serverwireless technologies such asZigBee automation;
Second generation: Artificial intelligence controls electronic devices, such asAmazon Echo, Apple Homepod, Google Home, Xiaomi AI Speaker (Xiao Ai), Xiaodu Speaker, Tmall Genie;
The third generation: robot companions that can interact with humans, such as Robot Rovio,Roomba;
Smart Building Definition|Smart Building Design
Smart Building Assessment Handbook
Additional information
| | |
| --- | --- |
| Platform | APP, HMI, PC, PC+APP |
| Application | Building |
| Types of | central monitoring, control panel, cloud |
Building Central Monitoring | Cloud Integrated Management Platform
Building central monitoring | Conforms to the regulations of the smart building label
It can be connected to the BA central monitoring system of each community, read the equipment monitoring value and abnormal alarm information (only monitoring but not monitoring or demand monitoring scheduling), and store them in the BA cloud integrated management platform
The platform has query and report output functions, providing functions such as equipment historical range data and abnormal alarm records
Have an open database or provide WEBAPI for system integration of Party A
With WEB interface and cloud architecture, it can be accessed through the Internet through computers and mobile devices
Must have an account and authority management mechanism, and can set programs and reports according to user roles
For service reliability, backup and data backup mechanisms need to be considered
From the perspective of a construction company, it is necessary to be able to conduct cross-site control on a single interface
Smart facilities|Equipment operation management platform
asset management system
Asset inventory management: formulate fixed asset management system, including: purchase, classification, compilation
Management procedures such as numbering, registration, filing, and scrapping, as well as information such as quantity, value, operating status, and history records, are management norms for the transfer of rights and responsibilities of assets
Formulate management regulations for the use of various facilities and equipment, including: apartment building regulations (not applicable to all buildings that are not distinguished), and management methods for the use of various shared facilities or equipment
Asset Repair Department Management System
Point Handover Inventory Management System
Equipment Performance Management System
Facility Anticipated Needs Assessment and Planning
Establish a quality management system
Establish management performance evaluation criteria
Management Performance Evaluation System
Central monitoring system monitoring integration (BA) provides
light monitoring
air conditioning ventilation
Fire monitoring
water monitoring
video security
Environmental monitoring
power monitoring
And so on to carry out the monitoring integration of the Internet of Things to achieve real-time supervision.
Equipment maintenance and operation management
Formulate annual equipment management and maintenance plan
Formulate management and maintenance specifications for various facilities and equipment
Formulate crisis management and emergency contingency plans
long-term repair plan
Create a long-term repair plan
Make a long-term financial plan
Organization Management|Personnel and Facilities Management Platform
Management organization type and establishment:
include:
Business responsibility of facility management department
Management Unit Responsibilities and Organizational Establishment
Professionals or licensed personnel who are equipped according to the smart building law
Establish facility management personnel (must) management system
include:
Basic personnel information
service management
Work Record and Handover
Establish Mobile Device Facilities|Maintain APP
Mobile Device Facilities|Maintenance APP
Access Control
parking management
Asset Management APP/(Equipment Classification. Equipment Management. Space Management)
Repair platform/mobile repair report (maintenance scheduling, repair tracking, maintenance records, manufacturer settings (builders and equipment manufacturers)
BA and HA device alarm push
Property management service system and resident APP (customized exclusive APP)
Public management/reservation management/community points and stored value management
public appointment
appointment reminder
Cancellation inquiry and audit mechanism
Cash Stored Value Points
Stored value rate setting
Point execution status
Record
Details of cash exchange points
Smart Logistics/Notify Parcel Pickup
Parcel delivery record
receive
Take pictures and electronic signature
visitor management
Visitor inquiry, filing
parking status
Refusal setting
Residents can apply for visitor temporary access permit (password or QR Code) online, combined with access control and elevator control functions
postal management
Letter sending and receiving record
receive
photo hand sign
Completed (un)processed summary table
Delete record query
Duty management (property management personnel) / patrol management
QR CODE scan patrol
Import into EXCEL
Personnel attendance punch card management
Repair management
Multi-community data integration for households
repair history
Abnormal push manufacturer
Vendor management
cloud management
Stored in the cloud integrated management platform (public cloud)
Combining HA shortcut and return function
Integrate the function of calling HA APP and returning property management APP
Monitor screen management
Provide public key area images
In and out time monitoring can be set
environmental information
Building environment introduction, water, electricity, temperature and other abnormalities
Health service/elderly care service
Blood pressure measurement, body abnormality notification
Community Management Platform
community management
Unified entrance platform, builders can have multiple communities at the same time; APP welcome page, content includes APP image, LOGO, photos, etc.
Resident Information/Resident Management/Management Committee Management
Resident complaints
Household information filing
Exclusive message push
authority management
Handover house management (construction to the management committee)
Member list
Administrative Work/Community Information/Announcements/Electronic Messages
message inquiry
synchronous announcement
Album management (or announcement with photo management function)
meeting management
Community Exchange Discussion Area
Community Site Management
Manufacturer Information Query
voting platform
Management Committee Management Platform
Community account/financial management/management fee/supermarket payment
Detailed query receivable
Management Fee Journal
Report Receipt Report
Delete Receipt Report
Management fee and point fee inquiry
Business district information/community group buying
Create files for surrounding stores
Special Offer Announcement
order management
Order Report
Detailed statistics of consumption
Resident Initiation System
asset Management
Material construction
inventory
import
asset classification