Smart Building certification Evaluation/Planning Application: Summary of Review and Approval and Use Operation Points
Smart Building Evaluation/Planning Mark Application: Summary of Review and Approval and Use Operation Points
Eight major indicators integrated Internet of things / information and communication network smart building label guarantee

1. The Ministry of the Interior (hereinafter referred to as the "Headquarters") has formulated these key points in order to promote the integration of construction and information and communication industries, and to introduce intelligent related industrial technologies into buildings, so as to achieve the goals of safety, health, convenience, comfort, energy conservation and sustainability.
2. The terms used in this key point are defined as follows:
(1) Smart building: refers to a building that uses information and communication systems and equipment to enable the space to have intelligent functions of active perception, so as to achieve the goals of safety, health, convenience, comfort, energy conservation and sustainability.
(2) Smart building certification: Refers to the following buildings, which have been approved by the Ministry to comply with the label issued by the smart building evaluation index system:
Recently, Manduo Construction Company asked this question
What are the benefits of applying for the Smart Building Certification?
Raise the housing price (not necessarily applicable, my experience is about 1-2% of the housing price per ping
Accelerated sales (eight indicators are well reviewed, and the editor's experience is highly feasible)
Can I apply if there are not many households?
What kind of resident APP should be used? (From the perspective of residents: there are many commercially available apps that do not integrate a single dedicated app, and it is faster to find ECC to have fun together)
Reduced operating costs: Smarter building technologies can optimize energy use and reduce waste, resulting in lower operating costs for owners and operators.
Increase property value: Smart buildings are sought after by tenants and investors alike as they can increase the value of a property and attract higher rents.
Improved energy efficiency: Smart building technologies such as high-efficiency HVAC systems, lighting controls, and building automation systems can significantly reduce energy consumption and greenhouse gas emissions, resulting in a more sustainable built environment.
Improved indoor environment: Smart buildings aim to create a healthy and comfortable indoor environment for occupants, thereby increasing productivity and well-being.
Compliance with regulations: Smart building certification programs often require compliance with local, state and federal regulations related to energy efficiency and sustainability, which can help building owners and operators avoid penalties and fines.
Positive public image: Owners and operators who are certified smart buildings demonstrate a commitment to sustainability and environmental responsibility, which can enhance their reputation and attract environmentally conscious tenants and investors.
Overall, smart building certification can help building owners and operators reduce operating costs, improve sustainability, improve occupant comfort and increase property value, while also contributing to a more sustainable built environment.
Petition form
1. Buildings that have obtained a license for use.
2. It is recognized as a legal house by the competent construction authority.
3. Completed special buildings.
4. Buildings such as monuments, historical buildings, memorial buildings, settlement buildings, historical sites or cultural landscapes that have been approved for restoration or reuse by the competent cultural authority, and have been inspected and approved for use.
Smart Building Assessment/ Planning
In architectural design, use information and communication equipment to achieve active perception and control technology. Enjoy the life experience of smart devices, and meet the certification of the smart building mark in combination with customized needs.
Basic regulations on smart building Certification
[Eight evaluation contents of the 2016 edition of the smart building evaluation manual]
Eight indicators of smart buildings
Integrated wiring index
Infocomm Indicators
System Integration Index
Facilities Management Indicators
Safety and Disaster Prevention Indicators
Energy saving management index
Health and Comfort Index
Smart Innovation Index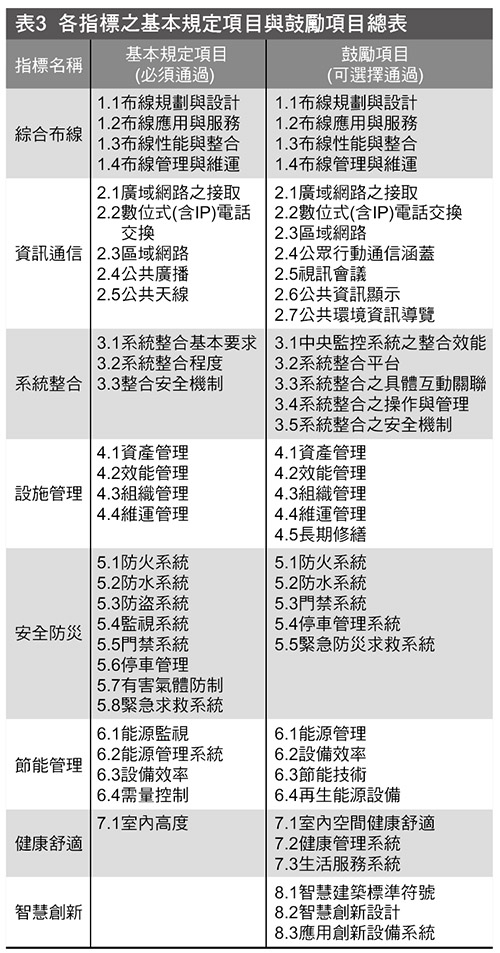 What is a Candidate for Smart Building Certificate
Short name: alsodid not getCertificates before Pass, Bronze, Silver, Gold, Diamond
Candidates for the Smart Building Certificate should meet one of the following qualifications:
(1) The creator registered in the construction license and special building permit document.
(2) The manager of the land where the building is located.
(3) Owners, users or managers of monuments, historical buildings, memorial buildings, settlement buildings, historical sites or cultural landscapes.
Candidate smart building certificates are valid for five years. Under any of the following circumstances, the applicant may submit an application form stating the extension period and supporting certificate drawing documents to apply to the Ministry for extension. Each time the extension shall not exceed five years:
(1) The construction period approved by the competent construction authority exceeds five years.
(2) In accordance with the provisions of Article 39 of the Construction Law, the design change shall be carried out to increase the construction period.
(3) Has registered to apply for a license.
(4) Other reasons not attributable to the applicant.
Buildings that use the Candidate Smart Building Certificate, their Candidate Smart Building CertificateIt will be invalid since the effective date of obtaining the smart building label.
Candidate Certificate Workflow
The official certificate will only be issued after the election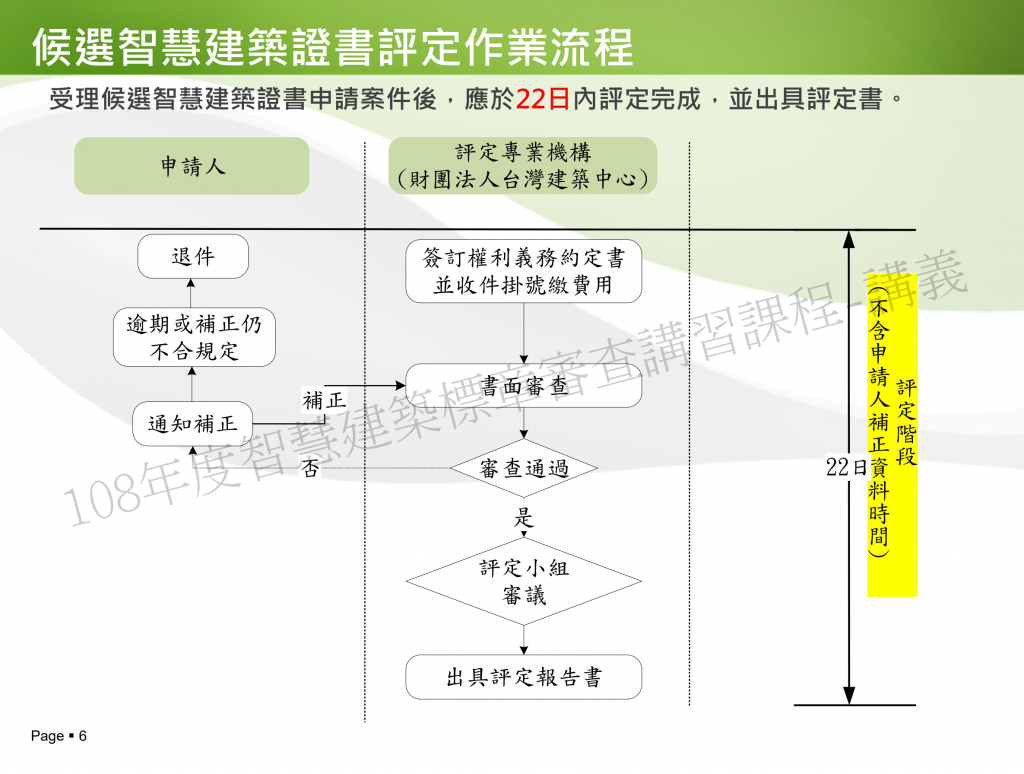 Smart Building Certificate Operation Process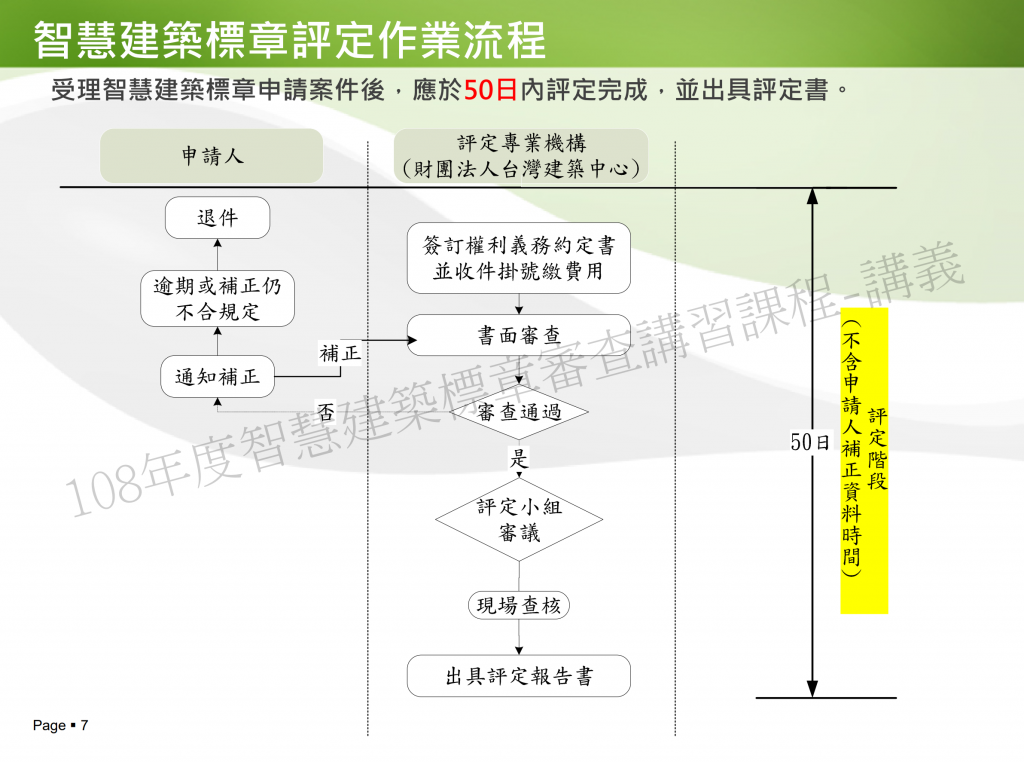 Application Fee Calculation Smart building certification fee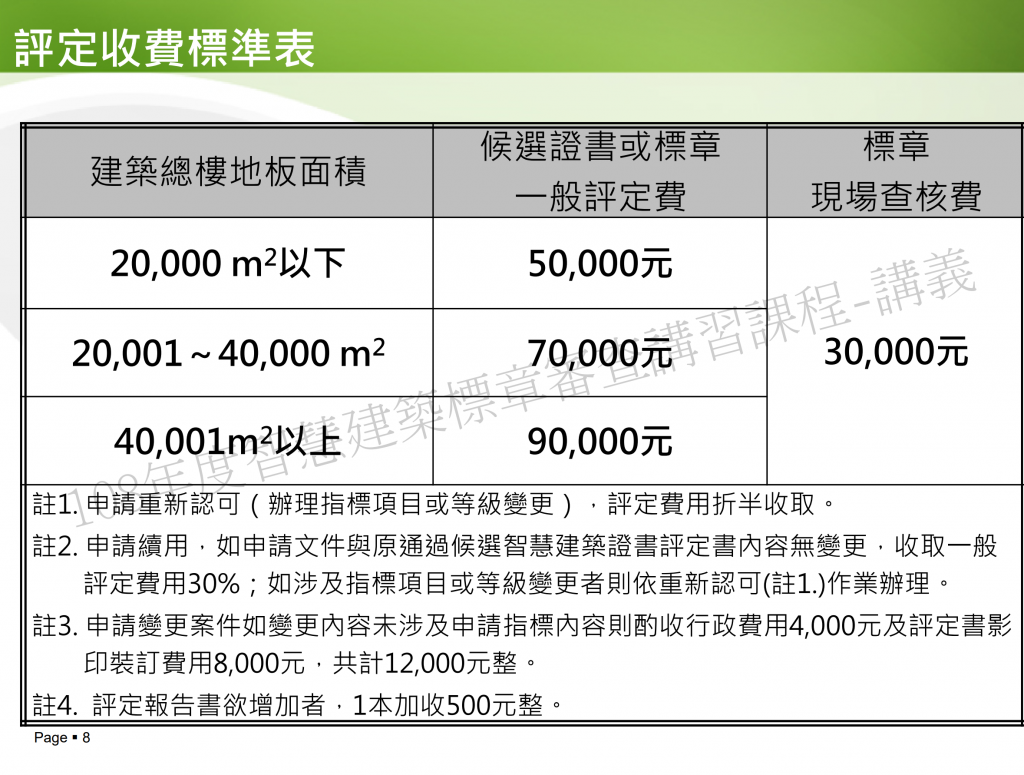 Smart Building Certification | Design and Planning Process
step
identity
look up
content
importance
1
technician
Architect/Electrical Technician
Health and comfort
***
2
evaluate sender
author
Eight indicators
****
3
system integration
Weak current system integrator
Integrated construction
*****
4
Selection agency
Taiwan Architecture Center
candidate certificate
Formal Smart Building Level
***
Implementation steps of smart building label
Smart building Certification query
Smart Building Certification Reward Volume
Urban Renewal Building Volume Incentive Measures (Republic of China 108 May 15th)
To obtain a candidate green building certificate, the award volume will be given according to the following levels:
1. Diamond grade: 10% of the reference volume.
2. Gold grade: 8% of the reference volume.
3. Silver level: 6% of the standard volume.
4. Bronze grade: 4% of the reference volume.
5. Qualified grade: 2% of the reference volume.
| Smart Building Certificate Levels | Base Volume Award | Maximum Number of Residential Applications |
| --- | --- | --- |
| Diamond | 10% | *(not much) |
| gold class | 8% | **(too few) |
| Silver | 6% | ****(most) |
| Bronze | 4% | ***(generally) |
| Qualified | 2% | *(not much) |
Applicable Scope Form for Public Buildings to Apply for the Smart Building Certification
When bidding for construction or private contracting of public works, it is currently required to have a smart building Certification
Especially in construction projects that belong to private investment but are included in public building areas
The following is the scope of application for the readers