🔍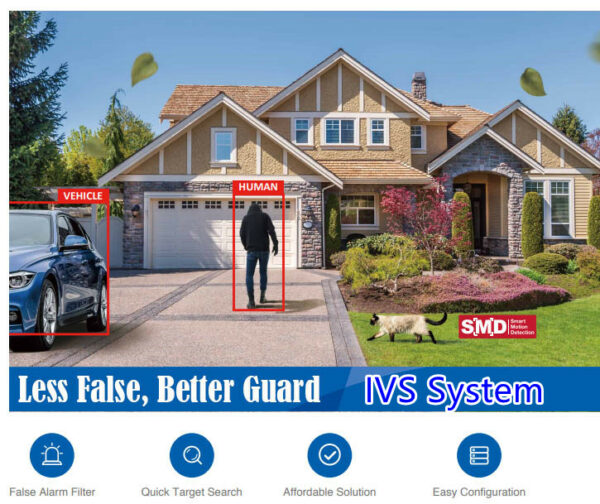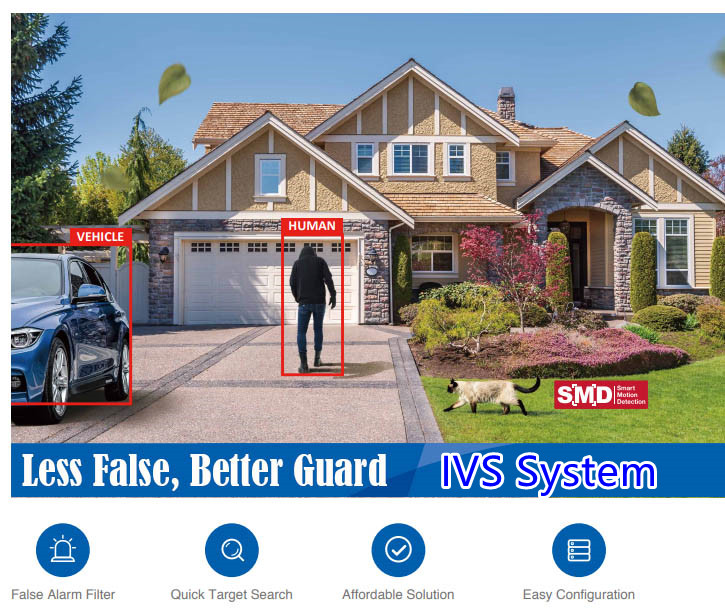 ECC100M Intelligent Video Surveillance Security System (IVS Security System)|Smart Building Label|Weak Current Project
Intelligent Video Surveillance System (IVS System)|Smart Video Surveillance System Based on Image Analysis in Smart Building|IOT Developer + Industry 4.0 System Integration|ECC IOT Basic|ECO Smart Community System|Smart House|
Description
ECC100M Smart Video Surveillance (IVS System)
Software for ECC100M Intelligent Video Surveillance (IVS System)
Make both difficult and easier
Solution: It is difficult to build an IP camera management system
Solution: More complex to build VSaaS solutions.
ECC100M focuses on the development of Intelligent Image Audio Analysis (IVA) server and Event Management System (EMS).
For standard camera system products on the market, such as IP Cam, NVR/VMS/CMS, ECC100M Intelligent Video Surveillance (IVS system), an open source protocol strategy is adopted.
Any IP camera that supports RTSP can be connected to our IVS server host, we have assisted in the integration of many NVR systems and multinational cases in different smart home projects
What is Intelligent Video Surveillance (IVS System)?
Smart Video Surveillance IVSis a cutting-edge video technology that records criminal activity in homes, businesses and municipalities according to the user's preferences. Smart video systems' capabilities include tracking moving objects and automatically detecting suspicious activity, which can trigger alerts and warn homeowners and business owners of potential threats. Traditional CCTV systems can only be controlled by simple switches, resulting in thousands of hours of blurry images and are often unusable, making effective surveillance, crime identification and surveillance nearly impossible. Smart Video Surveillance delivers high-definition image quality and motion-triggered night vision technology, so you can quickly stop and capture video when nothing is happening at your location.
used forSmart Video Surveillance IVSArtificial intelligence uses computer software programs to analyze audio and images from video surveillance cameras to identify people, vehicles, objects and events. A security monitoring program is software used to define restricted areas within the camera's view (e.g. fenced areas, parking lots, but not on sidewalks or public streets outside the parking lot) and execute programming throughout the day (e.g. after business hours), to protect property being monitored by cameras. Artificial Intelligence ("AI")Smart Video Surveillance IVSIf a trespasser is detected breaking the "rules" that no one is allowed to enter during that time of day, an alert will be issued. [1]
artificial intelligenceSmart Video Surveillance IVSImplementing Program Functions by Using Machine Vision Machine vision is a series of algorithms or mathematical processes that work like a flowchart or a series of problems to correlate what it sees with thousands of stored objects in different poses, angles, positions and Human reference images in motion are compared paired. The AI asked itself whether the observed object was moving like a reference image, was roughly the same size in height relative to its width, featured two arms and two legs, moved at similar speeds, and was vertical rather than horizontal. There are many other issues, such as how reflective the object is, how stable or vibrating the object is, and how smoothly it moves. Combine all the values for each question to get the overall ranking to get the AISmart Video Surveillance IVSProbability of whether the judged object is a human or not. Send an alert if the value exceeds the set limit. Such programs are characterized by a degree of self-learning, e.g. from the camera being in some parts of the surveillance image (the area near the camera), people or vehicles appear larger than others (the farthest away). area).
In addition to simple rules that restrict people or vehicles from entering certain areas at certain times of the day, more complex rules can be set. IVSSmart Video SurveillanceThe user manager of the system may wish to know if the vehicle is traveling in one direction and not the other. User managers may wish to know that the number of people in a particular area exceeds a certain preset number. artificial intelligenceSmart Video SurveillanceAbility to monitor hundreds of cameras simultaneously. Whether it is at a distance, in rain or in bright light, its ability to detect intruders is superior to human judgment.
This AI artificial intelligenceSmart Video SurveillanceSecurity is called "rule-based" because developers have to set up rules for everything user managers want to be warned about. This is the most common form of AI artificial intelligence is set up for security. Many video surveillance camera systems today include this type of AISmart Video Surveillance. ability. The memory store containing the program can be located in the camera itself, or in a separate device that can receive input from the camera.
A newer, irregular form of AISmart Video SurveillanceA technique called "behavioral analysis" for security has been developed. The software is completely self-learning and does not require any initial programming input from the user or security manager. In this type of analysis, artificial intelligence AISmart Video SurveillanceUnderstand the normal behavior of people, vehicles, machines and the environment based on your own observations of patterns in various characteristics such as size, speed, reflectivity, color, grouping, vertical or horizontal orientation, etc. artificial intelligence AISmart Video SurveillanceVisual data is normalized, which means it classifies and labels observed objects and patterns, establishing an ever-improving definition of normal or average behavior for various observed objects. After weeks of learning this way, it can recognize when the pattern is broken. When it observes such anomalies, an alert will be sent. For example, it is normal for a car to drive on the street. It's unusual to see someone driving on the sidewalk. If a fenced yard is usually empty at night, people entering the area will be an anomaly.
 business intelligence gathering
Integrated Intelligent Image Surveillance Security System (IISS)
Smart Check Access Control
VMS/NVR
Smart fire alarm
Smart intercom system
Smart face recognition
Smart Parking System
POS system
IVA Video Analysis IP Camera
Platform Support
Manipulate RWD HTML across platforms: Chrome/IE
Smartphone Operation: Android / iOS
People Follow Watchlist Solutions
Smart access control solution
Smart People Counting Solutions
Smart Vehicle Detection Solution
Smart public gathering alarm solution
Smart Bullying Reporting Solution
Smart Theft Detection Solution
Realize intelligent property, improve efficiency, improve owner satisfaction, virtuous circle
 Safe and pleasant community*smart house
Cloud access control, cloud monitoring, cloud smart parking, system network, creating a secure community*smart house
 Healthy and comfortable community*smart house
Support temperature detection for COVID-19 issues
Community O2O, temperature, health management, at home, comfortable life
 Smart Technology Community*Smart House
Intellectual property management, smart home, mobile life, technology community*smart home
 Wealth-added community*smart home
Payment security, payment P2P, creating safe value-added space for property and family
 government administration
ECC100M Smart Image Surveillance Platform
Connecting to each other to create an urban safety management system for smart city construction
Helmet helmet violation detection solution
Body Temperature Detection Solution (COVID-19)
People Detection Solutions
People counting solutions
Smart access control solution
People Follow Watchlist Solutions
Vehicle license plate recognition detection solution
Big data on the number of people entering and leaving, open source interface for cloud calculus, building a safe big data platform for urban safety management
Aerial Surveillance Solutions
Mobile Vehicle Monitoring Solutions
Gun Sound Detection Solutions
Illegal Waste Dumping Detection Solutions
Safe linkage, intellectual property management, smart government city convenient services, creating a harmonious community with a happy life
Clothes, Color Detection Solutions
Slip, Trip and Fall Detection Solutions
 bustling business district
Community O2O, linking food, clothing, food, beverage and entertainment businesses together, creating a new community business model in the Internet age
TV wall push solution
POS integrated interconnection solution
Smart City Management
Smart Cities and Communities

Monitor areas, respond to incidents and track objects with surveillance drones

Video surveillance systems ensure the safety of passengers and drivers.
Property management
PMS Property Management Community
Smart access control solution

People counting solutions

Vehicle Detection Solutions

Illegal Waste Dumping Detection Solutions
Smart Home Automation
ECC100M supports the HAC technical community
Smart home automation

Security Monitoring

remote control
E-shopping management
ECC100M can match POS system with Eshop convenience community
Community Shopping App

Surrounding commercial monitoring business

E-Banking Easy Payment App
health management
EHC Long-term care community
Environmental monitoring

health management

community health care

Human body temperature detection solution

Slip, Trip and Fall Detection Solutions