🔍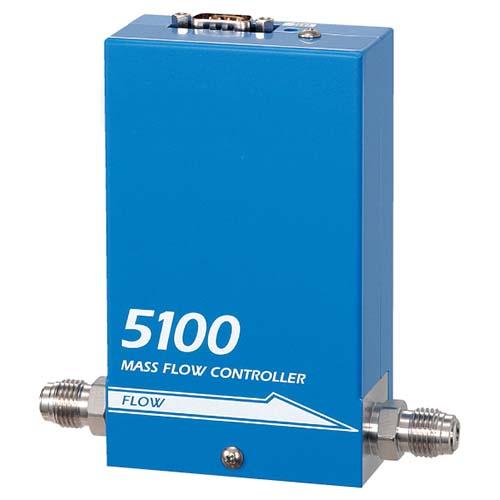 High Precision Metal Sealed Mass Flow Controller Model 5100 Series
The 5100 series mass flow controller/instrument has the basic performance conditions required for semiconductor process control, such as solderless structure, metal seal, accuracy ≤±1%, response ≤±1 second, etc., and has achieved substantial price reduction
Description
The 5100 series mass flow controller/instrument has the basic performance conditions required for semiconductor process control, such as solderless structure, metal seal, accuracy ≤±1%, response ≤±1 second, etc., and has achieved substantial price reduction
feature
・The flow sensor with temperature-following current difference detection realizes high precision and high response.
・A normally closed solenoid valve is used.
・Weldless construction and metal seals achieve low leakage rates.
・ Dead volume is reduced due to the diaphragm seat valve.
・ Face-to-face and body dimensions and wiring connection points are designed to facilitate replacement of equipment made by other companies.
Standard Specifications
! ! Remark! !
Specifications related to flow range (eg, flow range, accuracy, and response) are expressed in N2 or air equivalent. The product will be built with a primary pressure of 300 kPa or less and the secondary side open to atmosphere. Please contact us for details on pressure requirements.
Applications
・Air sampling
・Analyzer parts
·Bioreactor
・Biotechnology process
・Combustion control
・Made in CCFL
・Room pressure control
・Chemical process
・Environmental monitoring
・Manufacture of electronic equipment
・Food production
・Fuel cell test
・Fermentation process
・Gas mixing
・Gas distribution
・Airflow monitoring
·Gas generation
·Industrial furnace
·Leak detection
·Pharmaceutical process
·Pollution monitoring
·Process control
·R&D
·Solar cell manufacturing
· Secondary calibration reference
・Semiconductor process
・Surface treatment process
・Thermal flame spraying
・Film manufacturing
・Vapor deposition
What is the use of electromagnetic flowmeter? | Our performance
What is a mass flow meter used for? | Our performance
What is the use of vortex flowmeter? | Our performance
What is the use of ultrasonic flowmeter? | Our performance
What is a gear flow meter used for? | Our performance