🔍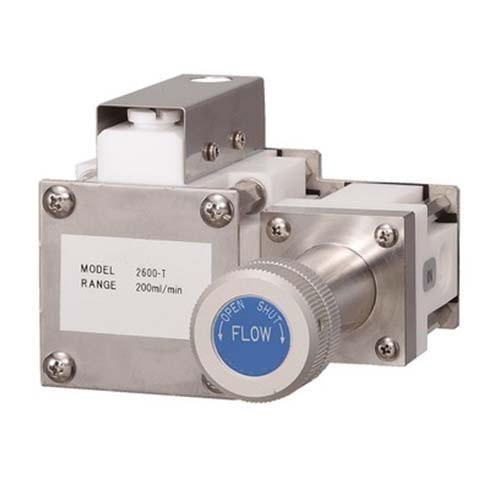 Description
This flow valve was developed to control the flow of water and chemicals. It keeps liquid flow constant and resists primary and secondary pressure fluctuations.
feature
• Excellent control of liquid flow at a constant rate
Valves composed of high-precision components ensure smooth flow control.
• Not affected by pressure changes
The flow remains constant, preventing primary and secondary pressure fluctuations.
• Use non-metallic material (PTFE) for wetted parts
This resin (PTFE) is ideal for parts that are easily damaged by metal ions.
• Small flow controllable from 100-500 ml/min
Minute flow can also be optionally controlled.
• Model 2600, an all PTFE version, is compatible with nearly all chemicals due to the use of perfluoro O-rings.
(Depending on the type of chemical, some operating conditions need to be met.
Be sure to contact us for information before placing an order. ) • A bubbler (bubble purge tap) is provided in the upper/lower diaphragm chamber
Bubble purging provides the most accurate control during the initial flow setting phase of the operation.
Application
• Ultrapure water analyzer
• Environmental Instrumentation Systems; Food/Chemical Equipment
• Ultrapure water and chemical mixing systems
Standard Specifications
Optional Specifications
Custom flow ranges and types of special fluids can be selected. Please contact us for information.
*The above specifications are subject to change without notice. Install a filter etc. on the IN side to prevent foreign matter from entering.
Solenoid valve use | Our performance
Needle valve use   | Our performance
Flow Control Valve Purpose | Our performance
Two-way valve use | Our performance
Additional information
| | |
| --- | --- |
| Application | Flow Meter |
| Types of | Mechanical |
| Installation method | Thread |