🔍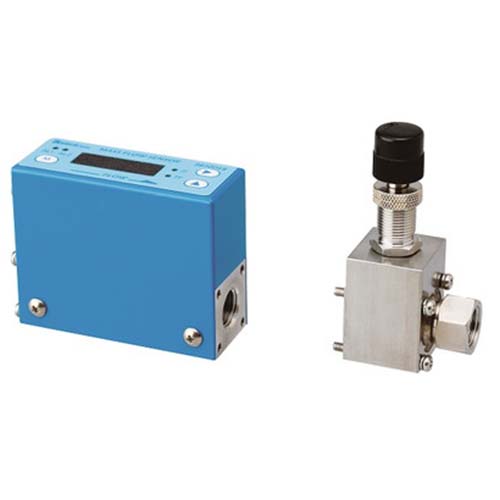 Type 3810DSII: Low Cost Mass Flow Meter with Display
The Japanese kofloc manufacturer complies with SEMI and CE certification | 3810DS II is a mass flow meter with a built-in display, using a time-tested flow sensor. In addition to instantaneous flow, the 3810DS II displays total flow, an improvement over the previous model 3810DS. Like the 3810DS, the 3810DS II also has an integrated flow sensor and precision needle valve.
Description
Type 3810DSII: Low Cost Mass Flow Meter with Display
characteristic
・High precision needle valve for controlling very low flow and monitoring
・Two alarm outputs for flow monitoring
・Analog output is used for instantaneous flow and pulse output is used for total flow
・Lightweight and bulky design
・Built-in display integrated type, only need to connect to 24 VDC power supply.
・Flowmeter measures mass flow and directly reads flow display
・Calculation of flow correction based on temperature and pressure is not required.
Standard
Sensing method
Thermal sensor
Flow range (N2 standard gas)
10 SCCM–20 SLM
21–100 SLM
precision
Within ±2% FS at 25℃
Within ±3% FS at 25℃
operating pressure
0.0–0.5 MPa (G)
Pressure resistance
1.0MPa (G)
allowable ambient temperature
0–50℃
Temperature Coefficient
±0.2% FS/°C (15–35°C)
Part material
Body: SUS303, PTFE
Material in contact with gas
Sealing: FKM
Option: Neoprene
Connection method
Standard: Rc 1/4 (Ask us for other sizes.)
Supply voltage
24 VDC ±5%, 100 mA (option: AC adapter)
flow output signal
1–5 V, 4–20 mA (Select when ordering.)
Alarm output
2 × NPN open collector output Maximum rating: 30
VDC, 50mA
*Cable connection
Connector: 3810DS II End: HR10A-7R-6P (Hirose Electric) Cable End: HR10A-7P-6S (Hirose Electric)
*Conversion cables for older model 3810DS are available.
! ! Notice! !
Specifications related to flow range such as flow range, accuracy and repeatability are expressed in N2 or air equivalent. This product will build demand at a main pressure of 300 kPa or less and the output is open to atmosphere. Please contact us for details on pressure requirements.
What is a Thermal Mass Flow Meter?
hotMass flowmeteris an accurate, easy-to-install low pressure dropFlowmeter. It is suitable for flow measurement and control of dry gas applications. The application can also use heat via the gas type reference linkMass flowmeter. When the air flow changes,Mass flowmeterThe cooling effect on the heated sensor will be observed. The result is high accuracy and low cost compared to other gas flow measurement devices.
benefit:
high precision
Wide flow range, including low flow
Simple and durable construction
Easy to install and maintain
Flowmeterflexible connections for flow control
Various process connections
Turndown ratio 100:1
Low pressure drop across the flow meter
Provide convenient signal output
Thermal Mass Flow Meter Principle
hotMass flowmeterUse the thermal properties of the fluid to measure the movement of the fluid in the pipe. in heatMass flowmeter, the measured heat is applied to the heater of the sensor. A certain amount of energy is lost during the flow, and as the flow increases, more energy is lost. The energy lost by the sensor depends on the thermal properties of the fluid and the sensor design. The thermocompressive properties of fluids can vary with temperature and pressure, although these changes are usually insignificant in most applications. Since heat flow measurement does not depend on the temperature or pressure of the fluid, it is possible to use heatMass flowmeterto estimate the mass flow of the fluid.
In other words, in most applications, the properties of a fluid may depend on its composition. For these applications, different compositions of the fluid may interfere with the magnitude of the heat flow during actual operation. Therefore, for heatMass flowmeterIt is important for the provider to understand the composition of the fluid so that the appropriate normalization factors can be processed to accurately determine the flow rate. Due to this limitation, heatMass flowmeterTypically used to measure the flow of pure gases. Manufacturers can provide appropriate normalization information for other gas combinations, but the accuracy of thermal mass flow meters depends on whether the actual gas mixture is the same as the gas mixture used for normalization purposes.
Additional information
| | |
| --- | --- |
| Application | Flow Meter |
| Types of | Electronic |
| Installation method | Thread |
| Output method | switch, analogy |
Product Dimensions
FGT authorized Taiwanese sellers for kofloc (more than 10 years of cooperation experience between the two parties)
The certified warranty sticker has been verified by the FGT secondary quality inspection label
manual
FGT authorized Taiwanese sellers for kofloc (more than 10 years of cooperation experience between the two parties)
The certified warranty sticker has been verified by the FGT secondary quality inspection label
Communication Brochure
Communication Development Manual Download(This product has no communication output)
FGT authorized Taiwanese sellers for kofloc (more than 10 years of cooperation experience between the two parties)
The certified warranty sticker has been verified by the FGT secondary quality inspection label
certified