Description
Smart home control in ECC App smart life
Control a wide range of ZigBee devices
The ECC ZigBee Hub makes your home devices compatible with a wide range of smart home ecosystems and voice assistants.
Supports smart life apps, Google Assistant and Amazon Alexa
Stable and reliable ZigBee gateway
Up to 50 devices online

Note: A network cable needs to be connected between the wireless router and the gateway hub (the network cable is included in the package)
Scene application
ECC ZigBee Smart Gateway + PIR Motion Sensor + Smart Switch
When you get up at night, once the PIR detects your motion, the light will turn on to link with the smart gateway
Smart home automation
Smart homes, also known as home automation, contain connected technologies that allow homeowners to interact with their family members in a variety of ways.
Home automation and smart home are two terms used to refer to a broad range of solutions for monitoring, controlling and automating functions in the home. A smart home setup enables appliances and devices to be automatically controlled over the internet from anywhere in the world using a mobile or other connected device. This allows the user to adjust functions such as security access, temperature, lighting and home theater of the house.
Smart home automation

Market|Smart Home Brand|Smart Home Taiwan Fun Weak Current Design
according toMarkets and MarketsAccording to the research report, the global smart home market size is expected to grow from USD 78.3 billion in 2020 to USD 135.3 billion in 2025, at a CAGR of 11.6%.According to another research firm, Mordor Intelligence, the smart home market was valued at USD 79.13 billion in 2020 and is expected to reach USD 313.95 billion by 2026, at a CAGR of 25.3% during the forecast period (2021-2026).The forecast of Fortune Business Insights stands out, asserting that the global smart home market size is likely to reach USD 622.59 billion by 2026, with a CAGR of 29.3%.
The growth of the smart home industry is driven by various factors such as increasing number of internet users, smart devicesthe growing popularity ofand rising disposable income of people in developing economies.
Growing number of internet users and increasing adoption of smart devices
Increase the disposable income of people in developing economies
Growing Importance of Home Surveillance in Remote Areas
Growing demand for energy-efficient and low-carbon emission oriented solutions
Popularity of smartphones and smart devices
Numerous Market Players Expand Smart Home Product Portfolios
Increased public focus on safety and security and interest in convenience

Favorable Government Regulations to Promote Green Buildings

Combining lighting controllers with built-in data connectivity technology

Integration of Power Line Communication Technology in Smart Home
Potential Limitations | Smart Home Cons
A Market Driven by Convenience, Not Necessity
High switching costs for existing smart device consumers
Issues related to potential breaches of security and privacy
Connecting different systems can be problematic, smart devices have limited functionality and lack open standards
Risk of equipment failure increases with the number of smart devices
Supply chain disruption due to COVID-19 pandemic
IoT and

Smart home automation

market
The Internet of Things connects products, software algorithms, services, and end users for a steady flow of data. As many large, medium and small companies in various industries around the world are investing in the IoT industry, lighting,HVACNumerous application areas such as security, healthcare, and entertainment are expected to benefit from these investments and contribute to the growing smart home market.
Increasing consumer preference for video doorbells, voice-assisted technologies such as Alexa and Google Home, and surveillance systems are also expected to significantly drive the growth of the smart home market. The growth in consumer adoption of IoT is attributed to the increase in smartphone and internet usage and the expansion of social networking platforms. Rising popularity of internet-enabled smart devices such as radio frequency identification (RFID), barcode scanners, and mobile computers, coupled with continued growth in internet users across the globe, is expected to further boost the growth of the IoT market, followed by the smart home market.
entertainment control system
Multi-room entertainment control systems allow users to centralize all connected devices, then interact and control them from every room in the home. The control systems used in smart homes are audio, volume and multimedia room controls. The growth of the audio, volume, and multimedia room control market is driven by the ease of controlling the in-room entertainment system.
Wireless Communication Technology
Advancement in wireless communication technology is an important factor driving the home theater system control market, thereby driving entertainment control in the overall smart home market. The huge market share of this segment can be attributed to products such as smart meters and smoke detectors. Concerns over increasing electricity costs may drive home consumers to save energy by implementing smart home solutions. The growing popularity of smart plugs, smart hubs, and smart locks is also contributing to the widespread adoption of control systems.
Behavioral software and services|Smart home system ECC community ecosystem
Behavioral software and services help analyze energy-related data and forward it to end users, providing essential information on real-time energy data as well as historical data reflecting energy usage.
The increasing need to address security concerns is expected to be one of the key drivers for the growth of the global smart home market along with the introduction of new wireless technologies including HVAC controllers, security and access regulators, and entertainment controls. Furthermore, IoT advancements leading to lower prices of sensors and processors are expected to encourage manufacturers to promote automation in the home sphere.
Smart HVAC (Heating, Ventilation, Air Conditioning) systems are contributing significantly to the smart home market. These systems are an integral part of residential environmental control. They consist of smart sensors, control valves, smart actuators, air conditioning systems, smart room heaters and other devices and systems. Many new buildings around the world require smarter heating and cooling solutions due to increasing government regulations in both developed and developing countries, which is driving the development of HVAC systems.
North America

Smart home automation

market
North America leads the smart home market in 2020, with nearly 30 million U.S. households expected to use smart home technology thereafter. Connected cameras have the highest demand among smart home products, followed by video doorbells, connected light bulbs, smart locks andsmart speaker. According to survey data, home security is an important driver of smart home technology adoption. However, consumers adopting smart home technologies such as smart lighting and energy management solutions constitute the most important drivers of the market.
It is estimated that by 2020, 16% ofAmericanOwning a smart speaker, i.e. about 39 million people, means that adoption of the technology has increased by 128% since January 2017. According to data collected by the survey, customers use the Amazon Echo forvariousIn terms of usage, a third of people use it as an information provider to answer questions, and more than 40% use it as an audio speaker for streaming music.
Asia Pacific smart home market
Analysts at MarketsandMarkets predict that the smart home market in Asia Pacific will grow significantly between 2020 and 2025, driven by factors including strong economic performance, population growth, rising living standards, and accelerating urbanization that is leading to more complex infrastructure s solution.
Chinese Smart Home Xiaomi and JapanThe growth of the smart home industry and the large-scale implementation of smart home hardware and software solutions,May make Asia Pacific a huge market for smart home. The region has a fairly high implementation rate for various products such as lighting controls, HVAC controls, security and access controls, etc.
Impact of COVID-19 on Smart Home Market
The COVID-19 pandemic has negatively impacted the growth of the global smart home industry, including the United States and China, and global sales are expected to decline by 5-10%. Decreasing number of new construction projects and temporary closure of manufacturing facilities are some of the factors hampering the growth of the China market. The U.S. market is expected to experience higher growth compared to other countries in the Americas. Nonetheless, the limited adoption of smart home systems and the ongoing trade war with China are expected to restrain the growth of the smart home market in the region in the near term.
Additional information
| | |
| --- | --- |
| Control | IoT |
| Platform | PC+APP |
| Application | Building |
Specification
Required power supply: DC5V 1A
Operating temperature: -10~55oC
Ambient humidity: 10~90% RH
Wireless protocol: Zigbee 3.0
Product size: 91x91x17mm
Product weight: 182g
Accessories: RJ45 network cable*one/USB power cable*one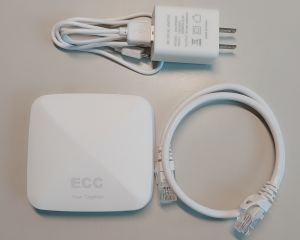 Application
Support: ECC system