🔍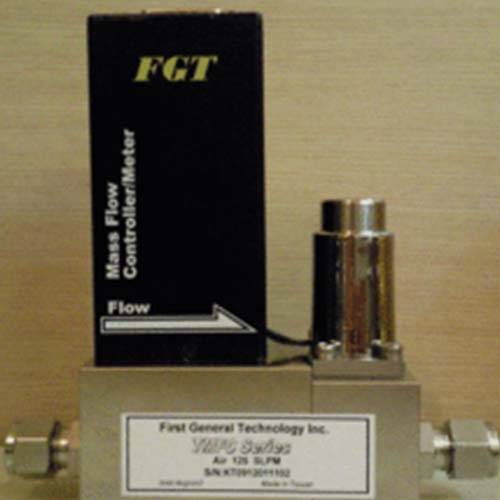 TMFC30 Type: Mass Flow Controller
Highly Accuracy at Low Flow
Fast Response(≦1.0)
Wide Pressure Range Available (1300 PSIG)
No Leakage
No Temperature or Pressure Required
Connection compatible
High stable removable sensor
Corrosion resistance Value
Excellent Linearity
Excellent long term Stability
Modular design
Compact Flow Control System
Description
High accuracy at low flow
Fast response (≦1.0)
Wide pressure range available (1300 PSIG)
No leakage
No temperature or pressure required
connection compatible
Detachable sensor for high stability
Corrosion resistance value
excellent linearity
Excellent long-term stability
Modular design
Compact Flow Control System
Technical Specifications
Model
TMFC30V
TMFC30A
TMFC50V
TMFC50A
Flow Range(N2)
10sccm~30SLM
10sccm~30SLM
10scc~50SLM
10scc~50SLM
Response Time
≦1.0sec
Accuracy
±1.0 % FS
Repeatability
±0.25 % FS
Proof Pressure
1300 PSIG
leak rate
1 x 10-9 atm.cc/sec or less
Working temperature Range
0~50℃
Materials of parts in contact w/gases
Body: SUS316
Valve seat: Vition™ (Option Bura™ or Kalrez™ or Teflon™)
Joint
Standard:1/4 compression
Option: 1/8 compression, 1/4 VCR™, 3/8 Compression, VCR™
Electrical connections
Dsub 15-pin male connector per standards
Flow rate input signals
0~5Vdc
4~20mA
0~5Vdc
4~20mA
Flow rate output signals
0~5Vdc
4~20mA
0~5Vdc
4~20mA
required power supply
+15~28Vdc/350mA
Application
What is MFC
A mass flow controller (MFC) is a device used to measure and control the flow of gases.[1] A mass flow controller is designed and calibrated to control a specific type of liquid or gas at a particular range of flow rates. The MFC can be given a setpoint from 0 to 100% of its full scale range but is typically operated in the 10 to 90% of full scale where the best accuracy is achieved. The device will then control the rate of flow to the given setpoint. MFCs can be either analog or digital. A digital flow controller is usually able to control more than one type of fluid whereas an analog controller is limited to the fluid for which it was calibrated.
All mass flow controllers have an inlet port, an outlet port, a mass flow sensor and a proportional control valve. The MFC is fitted with a closed loop control system which is given an input signal by the operator (or an external circuit/computer) that it compares to the value from the mass flow sensor and adjusts the proportional valve accordingly to achieve the required flow. The flow rate is specified as a percentage of its calibrated full scale flow and is supplied to the MFC as a voltage signal.
Mass flow controllers require the supply gas or liquid to be within a specific pressure range. Low pressure will starve the MFC of fluid and cause it to fail to achieve its setpoint. High pressure may cause erratic flow rates.
MFC application
1. CVD machine
What is CVD
chemical vapor deposition (CVD) is a vacuum deposition method used to produce high quality, high-performance, solid materials. The process is often used in the semiconductor industry to produce thin films.
In typical CVD, the wafer (substrate) is exposed to one or more volatile precursors, which react and/or decompose on the substrate surface to produce the desired deposit. Frequently, volatile by-products are also produced, which are removed by gas flow through the reaction chamber.
Microfabrication processes widely use CVD to deposit materials in various forms, including: monocrystalline, polycrystalline, amorphous, and epitaxial.These materials include: silicon silicon (dioxide, carbide, nitride, oxynitride), carbon (fiber, nanofibers, nanotubes, diamond and graphene), fluorocarbons, filaments, tungsten, titanium nitride and various high-k dielectrics.
2.Valve manifold box/panel (VMB/VMP)
What is VMB/VMP
Through our experiences of handling gases, we have acquired the knowledge to design and manufacture gas panel (gas box) of EPI system and MOCVD, material supply system etc.
Achievements in our business, we are able to design and manufacture to meet customer's request (price and specification). We can handle the hub ring air supply of liquefied gases not just only normal gases. We also support with var-ous kind of legal application .
Flow Rang
Model
TMFC30V
TMFC30A
TMFC50V
TMFC50A
Flow Range(N2)
10sccm~30SLM
10sccm~30SLM
10scc~50SLM
10scc~50SLM
Response Time
≦1.0sec
Accuracy
±1.0 % FS
Repeatabllity
±0.25 % FS
Proof Pressure
1300 PSIG
leak rate
1 x 10-9 atm.cc/sec or less
Working temperature Range
0~50℃
Materials of parts in contact w/gases
Body: SUS316
Valve seat: Vition™ (Option Bura™ or Kalrez™ or Teflon™)
Joint
Standard:1/4 compression
Option: 1/8 compression, 1/4 VCR™, 3/8 Compression, VCR™
Electrical connections
Dsub 15-pin male connector per standards
Flow rate input signals
0~5Vdc
4~20mA
0~5Vdc
4~20mA
Flow rate output signals
0~5Vdc
4~20mA
0~5Vdc
4~20mA
required power supply
+15~28Vdc/350mA
Order Information
Order Information

TMFC
Code
Flow Range
30
0~30SLM
50
0~50SLM
Code
In/Out Signal
V
0~5Vdc(Standard Type)
4~20mA
Code
Fitting Size
2
1/8″
4
1/4″(Standard Type)
6
3/8″
Code
Fitting Type
A
Compression SWL
V
Male VCR
Code
Seal
V
Viton(Standard Type)
B
Buna
K
Kalrez
T
Teflon
Code
Logo
F
FGT Logo(Standard Type)
C
Customer Logo

TMFC

Complete Ordering Code
*Note: All Model come with Power Supply(+15~28 Vdc/350mA)
*Note: Using customer Logo launch to more than 100 united for one year