🔍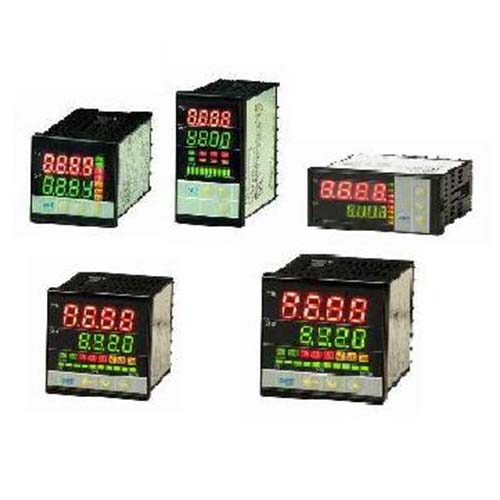 描述
常用參數可自由排列到常用位置
T/C,RTD.線性輸入可選
自動/手動控制模式可選
雙工輸出模式(加熱/冷卻)通過2個控製過程
警報 最多 3 個警報設置
CT加熱器斷線報警
可編程模式多達 8 個斜坡/保溫段
可在 90V AC 至 260V AC、50/60Hz 的任何線路電壓下運行
可選 RS232 和 RS485 通訊接口 Modbus RTU 可用
開環電機閥控制
遠程設定點
軟啟動 重傳輸出
額外資訊
| | |
| --- | --- |
| 應用 | 溫度 |
| 類型 | 電子式 |
| 安裝方式 | 盤面 |
| 輸出方式 | 數位, 開關, 類比 |
Technical Specifications
Model
TPC484
TPC489
TPC964
TPC727
TPC969
Dimension(WxD)
48x48mm
48x96mm
96x48mm
72x72mm
96x96mm
Input Type
Termocouple
K,J,R,S,B,E,N,T,W3,W5,PL-II(Input impedance:Approx.1MΩ
RTD
PT-100(DIN),JPT-100(JIS)
Linear Analog
0~10mV,0~20mV,0~50mV,4~20mA,0~10V…Please refer to Input Type List.
Controlling Output
Relay
A Contact 5A/250V
A,B contact 8A/250V
Logic Voltage
PWM Pulse voltage(to drive SSR):On=24V;Off=0V(20mA Max.)
Linear Analog
Currect:0~20mA,4~20mA(Inputimedance:600Ω Max.)                                                                                                                                                             Voltage:0~5V,1~5V,0~10V,2~10V(Inputimpedance:1KΩ Min.)Resolution:Approx.1,000 scales
Controlling Method
Controlling selection of ON/OFF,P,PI,PD,PID
Accuracy
0.2%FS±1DIG(except thermocouple type B&S)
Alarm Output
Relay Contact 8A,250VAC
Data Backup Memory
EEPROM,10Years
Storage/Operating Environment
0~65℃/0~50℃,20~90%RH
Digi Height(mm)
PV(Red)
8
8
13
14
14
SV(Green)
8
8
10
10
10
Power Consumption(Approx.)
4VA
4VA
4VA
5VA
5VA
Power Supply
AC 90~240V(60/50Hz),DC24V(optional)
Net Weight(Approx.)
130g
200g
200g
200g
280g
Application
What is PID Controller
A proportional–integral–derivative controller (PID controller. or three-term controller) is a control loop mechanism employing feedback that is widely used in industrial control systems and a variety of other applications requiring continuously modulated control. A PID controller continuously calculates an error value   as the difference between a desired setpoint (SP) and a measured process variable (PV) and applies a correction based on proportional, integral, and derivative terms (denoted P, I, and D respectively), hence the name.
In practical terms it automatically applies accurate and responsive correction to a control function. An everyday example is the cruise control on a car, where ascending a hill would lower speed if only constant engine power were applied. The controller's PID algorithm restores the measured speed to the desired speed with minimal delay and overshoot by increasing the power output of the engine.
The first theoretical analysis and practical application was in the field of automatic steering systems for ships, developed from the early 1920s onwards. It was then used for automatic process control in the manufacturing industry, where it was widely implemented in pneumatic, and then electronic, controllers. Today the PID concept is used universally in applications requiring accurate and optimised automatic control.
PID controller application
In theory, a controller can be used to control any process which has a measurable output (PV), a known ideal value for that output (SP) and an input to the process (MV) that will affect the relevant PV. Controllers are used in industry to regulate temperature, pressure, force, feed rate,[15]flow rate, chemical composition (component concentrations), weight, position, speed, and practically every other variable for which a measurement exists.
1.Environmental control
2.Smart Manufacturing Automation
Size Rang
Model
TPC484
TPC489
TPC964
TPC727
TPC969
Dimension(WxD)
48x48mm
48x96mm
96x48mm
72x72mm
96x96mm
Input Type
Termocouple
K,J,R,S,B,E,N,T,W3,W5,PL-II(Input impedance:Approx.1MΩ
RTD
PT-100(DIN),JPT-100(JIS)
Linear Analog
0~10mV,0~20mV,0~50mV,4~20mA,0~10V…Please refer to Input Type List.
Controlling Output
Relay
A Contact 5A/250V
A,B contact 8A/250V
Logic Voltage
PWM Pulse voltage(to drive SSR):On=24V;Off=0V(20mA Max.)
Linear Analog
Currect:0~20mA,4~20mA(Inputimedance:600Ω Max.)                                                                                                                                                             Voltage:0~5V,1~5V,0~10V,2~10V(Inputimpedance:1KΩ Min.)Resolution:Approx.1,000 scales
Controlling Method
Controlling selection of ON/OFF,P,PI,PD,PID
Accuracy
0.2%FS±1DIG(except thermocouple type B&S)
Alarm Output
Relay Contact 8A,250VAC
Data Backup Memory
EEPROM,10Years
Storage/Operating Environment
0~65℃/0~50℃,20~90%RH
Digi Height(mm)
PV(Red)
8
8
13
14
14
SV(Green)
8
8
10
10
10
Power Consumption(Approx.)
4VA
4VA
4VA
5VA
5VA
Power Supply
AC 90~240V(60/50Hz),DC24V(optional)
Net Weight(Approx.)
130g
200g
200g
200g
280g
Order Information
Order Information

TPC
Code
Dimension Size Type
484
48x48mm
489
48x96mm
964
96x48mm
727
72x72mm
969
96x96mm
Code
Input Type
0
Thermocouple(Standard Type)
1
RTD
2
4~20mA
3
0~5Vdc
4
1~5V
5
0~10V
2~10V
Code
Output#1 Type
0
Null
1
Relay(Standard Type)
2
Logic Voltage(SSR Control)
3
4~20mA
4
0~5V
5
1~5V
6
0~10V
7
2~10V
8
3-line proportional motor controlling
Code
Output#2 Type
0
Null(Standard Type)
1
Relay
2
Logic Voltage(SSR control)
3
4~20mA
4
0~5V
5
1~5V
6
0~10V
7
2~10V
Code
Alarm Type
0
Null(Standard Type)
1
1 Set
2
2 Sets
3
3 Sets
A
HBA(50A)*1
B
HBA+AL2
C
HBA+AL2,3
D
HBA(100A)
E
HBA+AL2
F
HBA+AL2,3
Code
Transmitting Output Type
0
Null(Standard Type)
3
4~20mA
4
0~5V
5
1~5V
6
0~10V
7
2~10V
Code
Remove SV Type
 
0
Null(Standard Type)
 
3
4~20mA
 
4
0~5V
 
5
1~5V
 
6
0~10V
 
7
2~10V
 
Code
Communication Type
 
0
Null(Standard Type)
 
1
RS232
 
2
RS485
 
 
Code
Water Proof Type
 
 
N
No Blank(Standard Type)
 
 
P
Yes
 
 
 
Code
Power Supply Type
 
 
 
A
AC 90~240V(Standard Type)
 
 
 
D
DC/AC 24~40V
 
 
 
 
Code
Logo
 
 
 
 
F
FGT Logo(Standard Type)
 
 
 
 
C
Customer Logo
 
 
 

TPC

Complete Ordering Code
*Note:If HBA function is available,AL1 function will be disabled.Select suitable amperage(50 or 100A) according to the load currect magnitude.
*Note:HBA and RSV cannot be allocated together.
*Note:Using customer Logo launch to more than 100 united for  one year